From the average person's perspective, it can be difficult to identify just what the problem could be when your car won't start.
What are the most common issues?
The two most common issues involve the power in the battery not being enough to start your car – the other involves your car's starter motor, a small device in your car which activates when you turn the ignition in order to initiate the car into running on its own power.
Could it be my battery?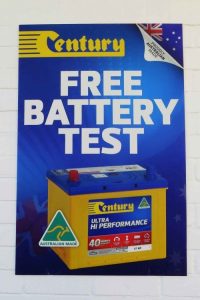 For a battery, you can tell that a battery is coming to the end of its life if you notice one day that the engine is turning over much slower. Next time you're starting your car, pay attention for a second – try to remember how your car started when you first got it, or had your last battery replacement. It's a very gradual change, so attention is required, and may be crucial to note and then correct rather than having a dead battery halfway between destinations, or not being able to start your car at all.
What about my starter motor?
So is it your battery or starter motor? Of starter motor issues, there are several things that can go wrong – but most can be diagnosed by us, or at any mechanic. The internal parts of a starter motor can wear down over time, terminals can corrode, wires can come loose.
What can I do?
Problems can be investigated by taking note of how the car sounds when you turn the ignition. Clicking tends to indicate a battery problem – grinding or clunking noises can also indicate starter motor issues. Have you had either of these ever happen to you? If not, the video below may illustrate a little better.
"You can generally tell your battery's coming to the end of its life by the way the engine turns over, generally the engine will start to turn over a lot slower, you might not notice it straight away but over time gradually it will become slower and slower. One day you might go out to your car and all of a sudden you get click-click-click-click-click, and boom, and that generally indicates that there is a battery problem. That would be one of the first places you would look at, you can also find that when a starter motor goes, you will get the same sort of thing and it won't be repetitive clicking, just more of a single click and clunk, and that will generally will indicate your starter motor as opposed to your battery."