Fleet Services
Let us create a custom fleet solution that will keep your fleet of vehicles on the road. Whether you have a fleet of passenger cars, commercial vehicles or vans or trucks we can tailor a solution that supports you every day, all year.
Battery Services supply, deliver and fit your batteries where ever you are throughout the Brisbane area with *NO call out fee!
We come to you FAST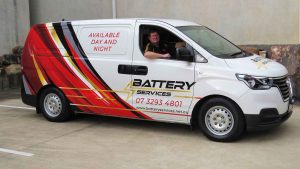 We know that breakdowns can cost your business and impact your customers. So we come to you roadside, at home or at work, where and when you need us 24 hours a day, 7 days a week to get you back on the road asap.
Get the right battery at the best price. At Battery Services  we know batteries – with over 500,000 batteries supplied  and fitted around Brisbane.
With the most comprehensive range of batteries. and our stock is readily available to suit 99% of all vehicles we can help you now.
(*An After hours fee applies from 7 PM to 7 AM, No call out fee on all battery sales, Fees for Jumpstarts, Battery Servicing and Diagnosis may apply).
Ask us about the best fleet support for your business to keep your business on the road.