Battery Services supply, deliver and will fit your batteries anywhere you are throughout the Brisbane area with *NO call out fee!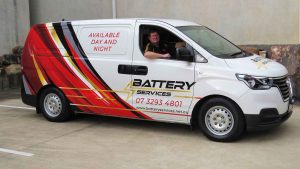 We come to you roadside, at home or at work, where and when you need us 24 hours a day, 7 days a week.
Get the right battery at the best price. At Battery Services we know batteries – with over 500,000 batteries supplied and fitted around Brisbane.
With the most comprehensive range of batteries. and our stock is readily available to suit 99% of all vehicles we can help you now.
(*An After hours fee applies from 7 PM to 7 AM, No call out fee on all battery sales, Fees for Jumpstarts, Battery Servicing and Diagnosis may apply).
Jumpstart Service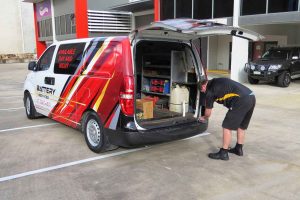 If you find yourself with a flat battery we can arrange to come to you and jump start your car to get you back on the road.
We can also check your cars battery and electrical systems and make sure your cars electrical systems are functioning correctly, that way you'll know that your battery will charge fully again.
Our team of local experienced professionals who know everything about batteries.
We have a fleet of well equipped modern service vehicles on the roads around Brisbane we are there when you need us.
Servicing from  Logan in the south to Caboolture in the North and Ipswich in the west through to Cleveland in the east we are never far away.
To arrange a jump start as soon as possible call us now on (07) 3293 4801