In our last Roadside Readiness article, we covered a few must-haves to prepare for long trips, where breakdowns happen, and items to keep in your car in case of emergencies.
If you want to know the rest, read on, or watch our new video here.
Recommended Tools For Roadside Readiness
Driving at night can be hazardous, but suddenly losing your lights may make even continuing the journey home impossible. In some cases, things like headlight failure can be caused by something as easy to fix as a loose connection or fuse. We'd recommend keeping a durable water-resistant torch and batteries in your car. A toolbox, or multi-tool can be handy in your car at all times for fixes you might not need to wait for. When choosing a tool kit, choose a smaller selection of tools if you're not sure what they're all used for. When it comes to using them, having fewer tools may make following tutorials on the web or YouTube easier. Do your research to get the best value for money. Keep a can of WD-40 around, and some duct tape, for when you need a temporary solution. A good spare tyre is always a great thing to have. If you have room, a puncture kit and tyre pump could save you a long wait as well.
The Lifesaver Every Car Should Have
If your battery fails and you're in a public place, you might be able to flag down someone to help. We'd recommend you don't take your chances on someone else having a set of jumper leads.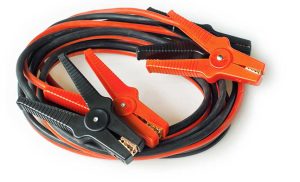 Get your own set in case you need a jumpstart from a stranger. Don't know how to jumpstart your car? It's vital to understand the correct process, as there are risks involved. A comprehensive step-by-step tutorial is on the way. Knowing how to jump-start is a crucial piece of knowledge any car owner should know.
Unsure how to stay safe during a breakdown? Check out our Roadside Readiness article on breakdown safety here.
Most importantly, keep your car manual close at hand. It should stay in the glovebox at all times for quick reference. In the case of your breakdown in Brisbane or surrounding, keep Battery Services' number nearby for reliable 24 hour, 7-day roadside assistance.
We are always there to help you in the event of a breakdown. Whether you need a jumpstart, battery replacement, a tyre change or fuel, we're there with expertise and solid advice to get you going again. Call us any time you're stuck – or come see us at our Brisbane battery shops for a free battery checkup and expert advice.